Choose From a Wide Range of Italian Dishes
Thank YOU for considering Roasted Clove Food Company. Here is our menu with options we find to be most popular and like the most. Most items are priced per person with a minimum of 15 orders considered. Prices are subject to change given market fluctuations, and additional costs may be incurred for smaller orders, changes or special requests, and individual boxed food, among other reasons. Please allow a minimum of 24 hours' notice for all catering orders. Please consider ordering from our Italian TOGO menu for orders needed sooner
Each item is priced per piece
Minimum order 10.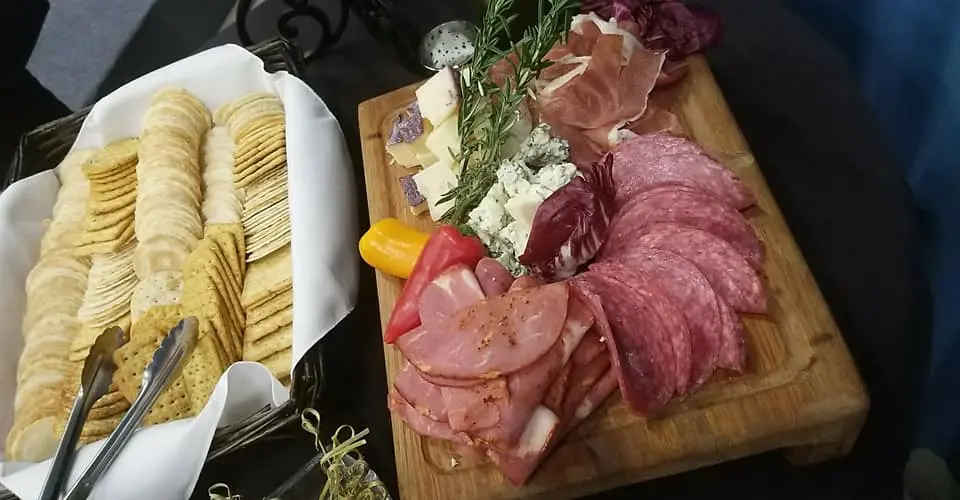 *Sub endive or lettuce leaf for a gluten-free option
Chevre Cheese And Caramelized Onion Crostini $1.5
Steak And Brie With Pepper Jelly On Baguette $3.5
Fennel–Pepper-Crusted Tuna With Gorgonzola On $3
Shrimp And Avocado Bruschetta $2.5
Lomi Lomi Salmon On Wonton $2.5
Tuna Poke On Wonton $2.5
Fried Tomato With Pimento Cheese And Chicharron $3
Lamb Shish With Tzatziki $4
Pork Shoulder And Spiced Sweet Potato $3
Beef And Mushroom With Gorgonzola $5
Prosciutto Wrapped Shrimp With Pepper Jelly $3.5
Chicken Satay With Peanut Sauce $2.5
Shrimp Boil Skewer (Potato, Sausage, Shrimp) With Remoulade $4.5
Shrimp Artichoke And Roasted Peppers With Aioli $4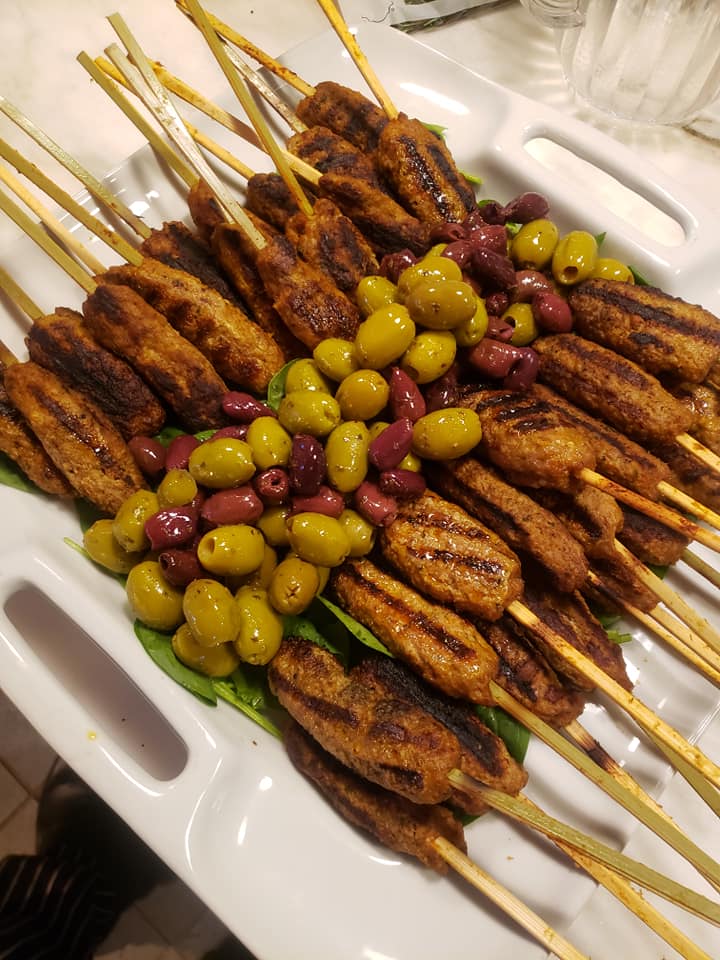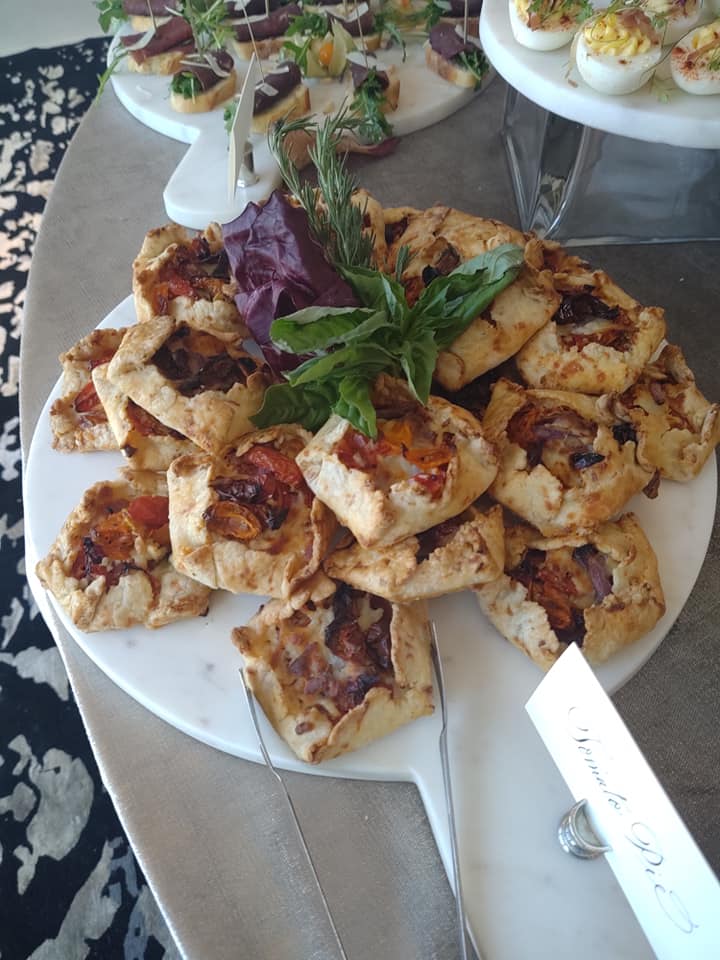 Mini Crawfish Pie $4
Empanada-
Bean And Cheese $2.5
Empanada-
Pork/ Chicken $3
Spanakopita $2.5
Salmon And Brie Bundle With Honey Mustard $3
Mini Beef Wellington $8
Spring Roll Vegetarian $3
Spring Roll Shrimp $4
Pork Meatball With Sweet Chili $1.5
Pot Stickers—Pork With Shoyu $2.5
Sushi Rolls Market Price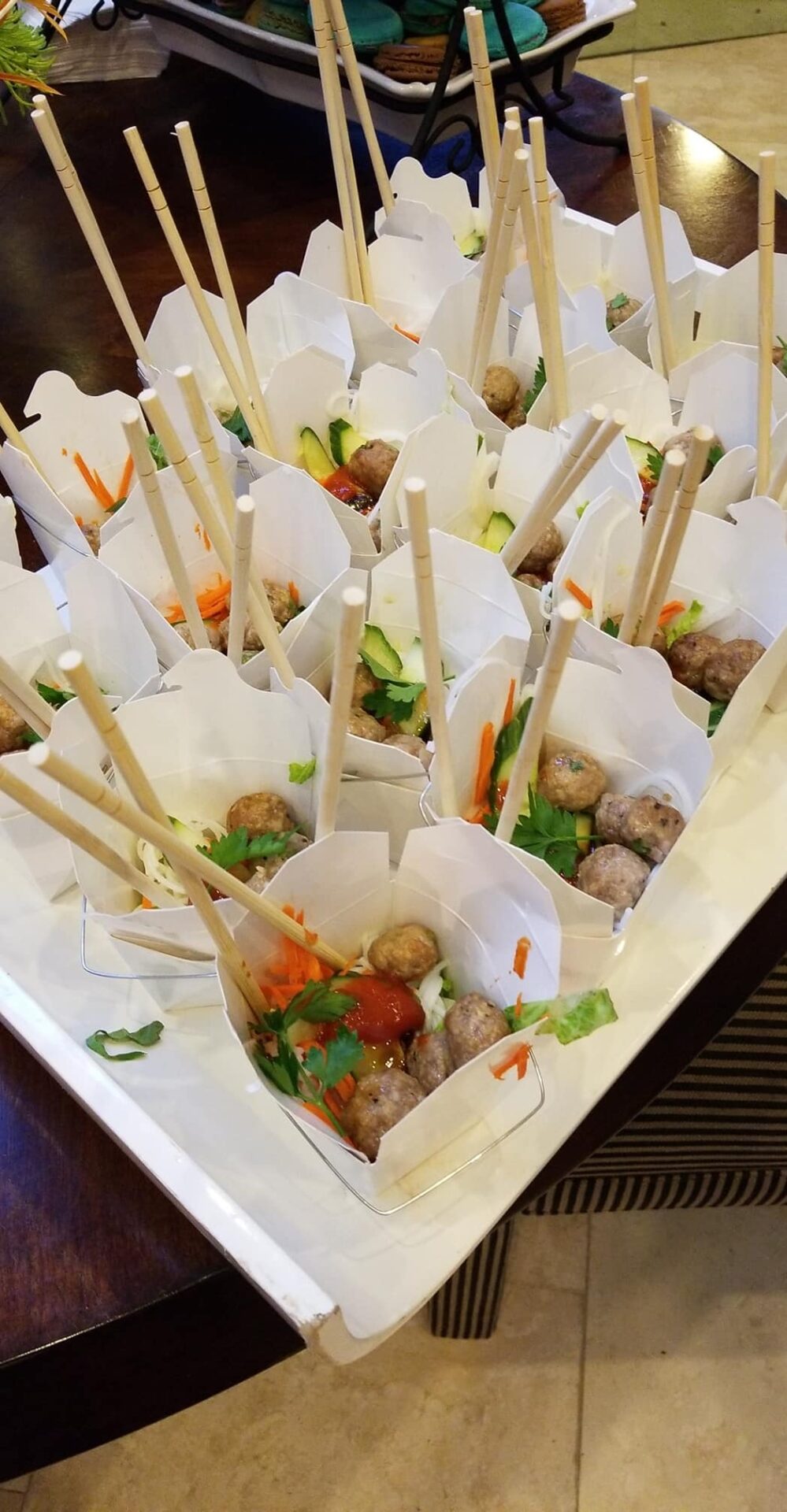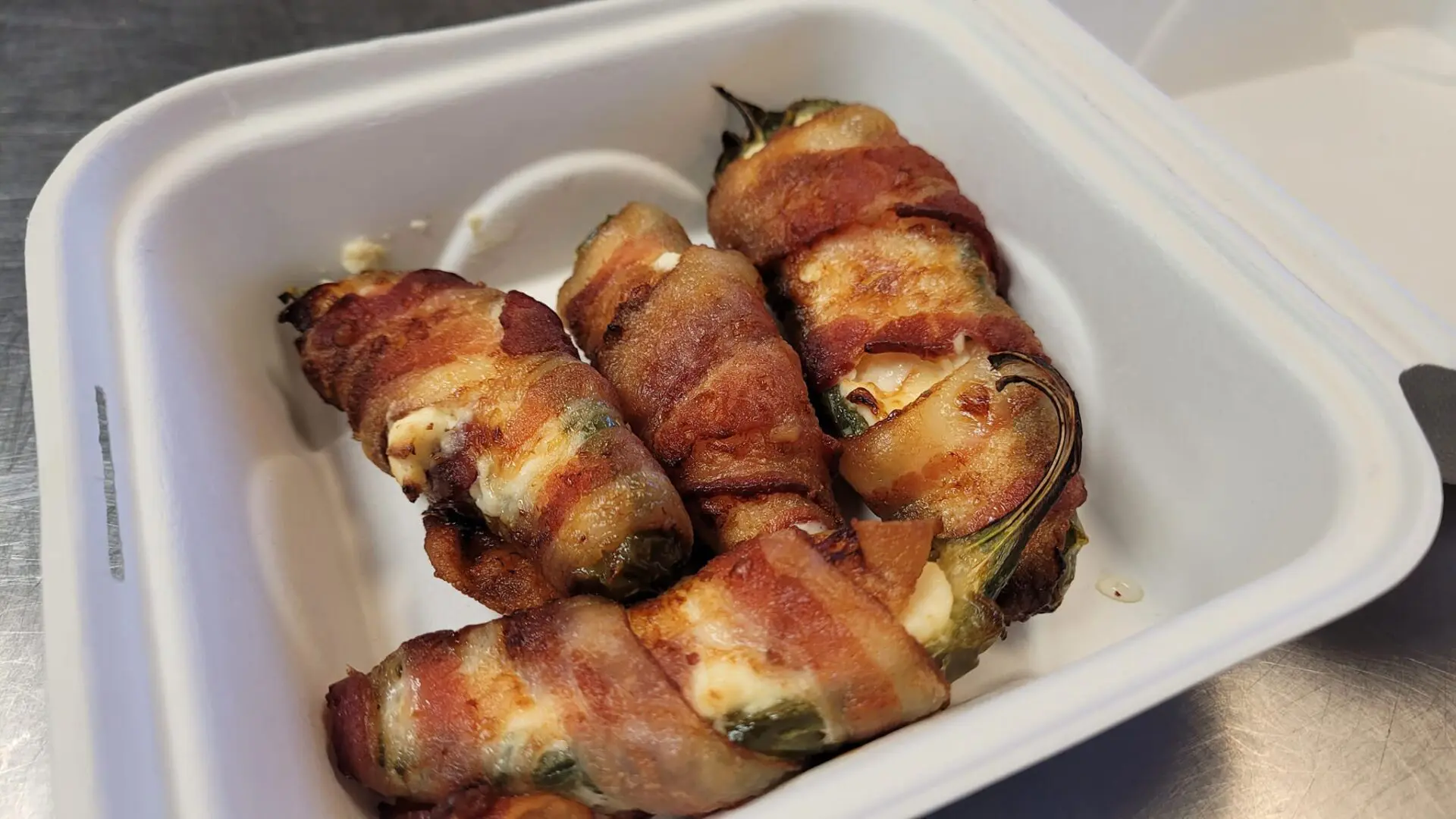 Jalapeno Poppers $2.75
Spinach And Sausage Stuffed Mushroom $1.75
Meatballs With Marinara Dip $1.25
Mini Crab Cakes With Remoulade $10
Boiled Shrimp With Remoulade Market Price
Kates Roasted Tomato Pies $3.25
Pizza Bites $1.5
Philly Cheese Steak Eggrolls $3.5
Truffled Deviled Eggs $1.5
Mexican Corn Salad Stuffed Peppers $1.75
Caprese Tomato Bites With Balsamic $2.75
Prosciutto Wrapped Gorgonzola Stuffed Dates $2.75
Charcuterie
setups–prices vary based on the size and quality of ingredients
Pizza Box Charcuterie
14 in pizza bread topped with chef's choice of cheese, meat, pesto, nuts, vegetables, and more $85+
Crudite
classic vegetable tray with creamy garlic dip or hummus in a 14-inch pizza box (larger trays and setups available) $55+
Mezza Platter
Pita bread, hummus eggplant dip, and garlic- yogurt dip (pint each) $75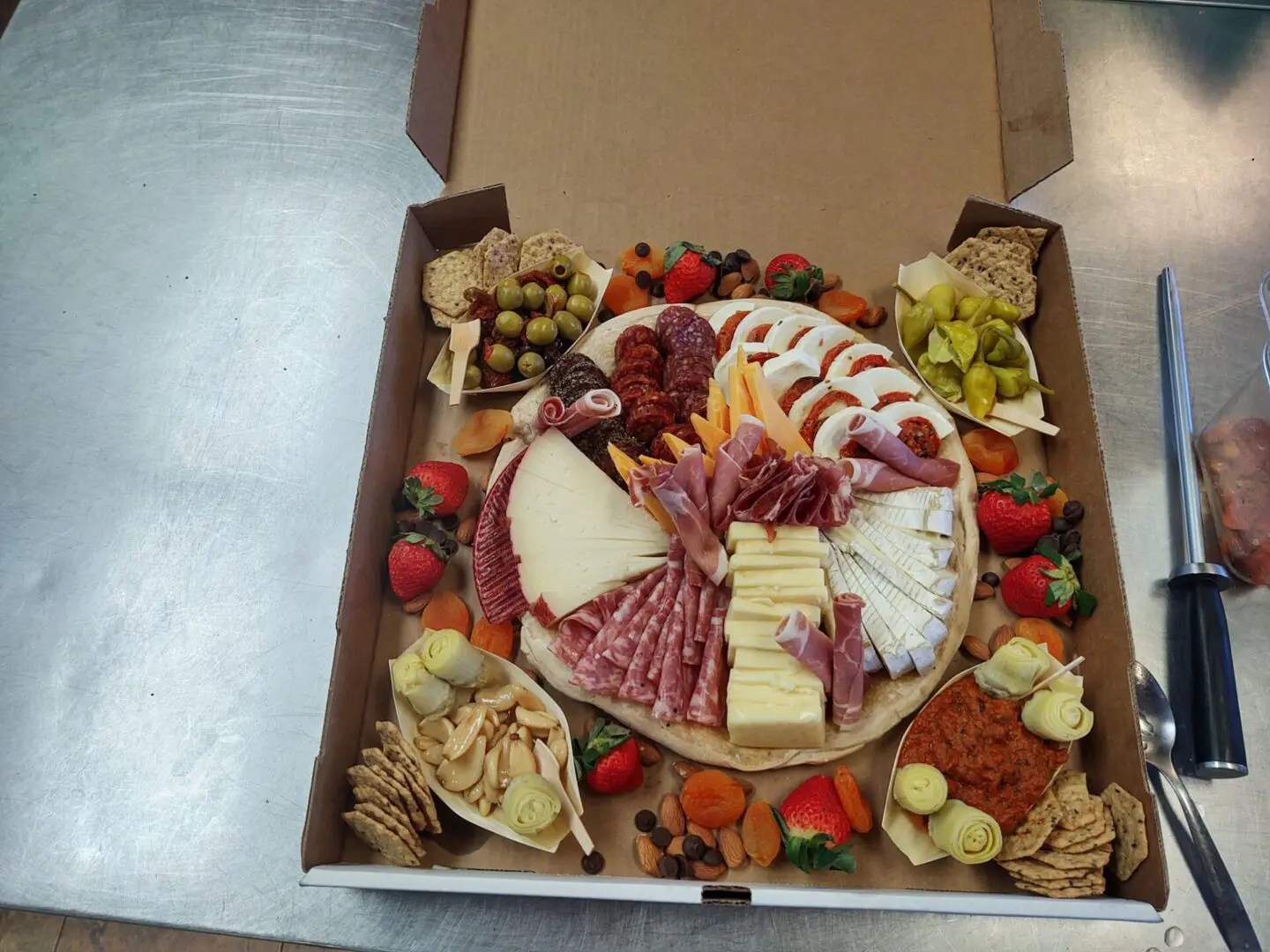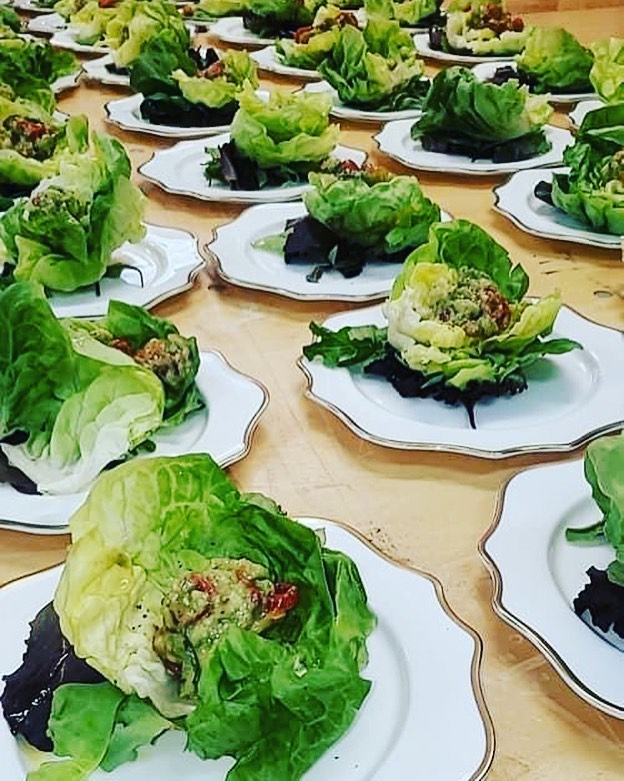 All salads listed are made to feed 12-15 adults. Served in full-size aluminum pans or 16" plastic rounds. All dressings are served on the side in pint containers or individual portions available upon request. Dressing substitutions available upon request
Add On Chicken- $6 per breast or Shrimp $2 each
Garden Salad
Chopped romaine, carrot, cucumber, tomato, and crouton with choice Ranch or Red Wine Vinaigrette $45
Caesar
Chopped romaine, tomato, crouton, grated Parmesan cheese, and anchovies upon request with Caesar dressing on the side $55
Greek
Romaine, cucumber, tomato, bell pepper, red onion, kalamata olive, feta cheese, and Red Wine Vinaigrette $60
Spinach
Baby spinach, red onion, sauteed mushrooms, red bell pepper, tomato, bacon bits, and crouton with gorgonzola dressing $65
New Yorker Salad
Spring Mix candied walnut, red onion, tomato, apple, raspberry, gorgonzola cheese, and balsamic vinaigrette $70
Greek Pasta Salad
Rotini pasta with all the ingredients from the Greek salad and spinach tossed with Red Wine Vinaigrette $70
Creamy Italian Pasta Salad
Rotini Pasta with Caesar dressing and all the fixens from a Greek salad $70
Asian Noodle Salad
Angel hair pasta tossed in sweet chili vinaigrette with cucumber, carrot, red onion, and shredded romaine Novara $75
Trays come with 10 sandwiches packed in aluminum pans or 16 in plastic rounds and a side of pepperoncini peppers. Add on the side of Lettuce, Tomato, Onion, and Pickle slices for $10—no mixed trays
Club
Turkey, Ham, Bacon, and cheddar cheese with honey mustard on 6" Hoagie Roll $75
Chicken Salad
shredded chicken with creamy sundried tomato, basil, and roasted Garlic on Homemade Focaccia $70
Chicken Caesar Wrap
Diced Chicken with Caesar Dressing and romaine lettuce in a tortilla wrap $70
Philly Cheese Steak
Classic steak with peppers, onions, mushroom, and American Cheese on 7 hoagie $90
Cuban Press
Roasted Pork, Salami, and ham and mozzarella with Dijon mustard, pickles, and roasted garlic pressed on a hoagie $85
Spicy Italiano
Salami, Capicola, Pepperoni, provolone, roasted tomato, and pepperoncini pressed on a hoagie roll $85
Meatball Sando
Meatballs and marinara sauce with melted mozzarella cheese $90
Chicken Parm Sando
Crispy fried chicken cutlets with marinara provolone and mozzarella cheese stacked on homemade bread $90
Caprese Sandwich
Basil pesto, roasted tomato, and mozzarella cheese with a hint of balsamic on homemade bread $65

Vegetarian
Roasted veggies with pesto and hummus on homemade bread $65
Ham & Cheese Or Turkey & Cheese
Just the plain old Sandwich with Mayo and Mustard on a hoagie roll $60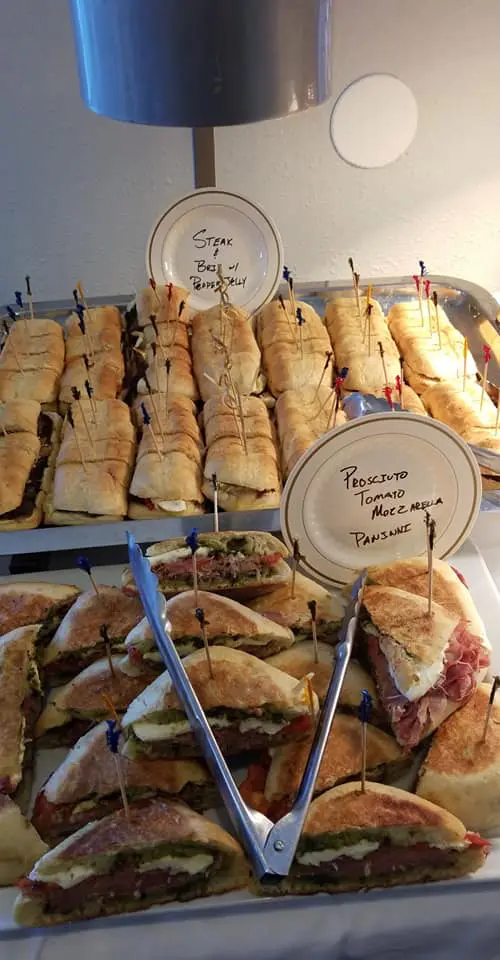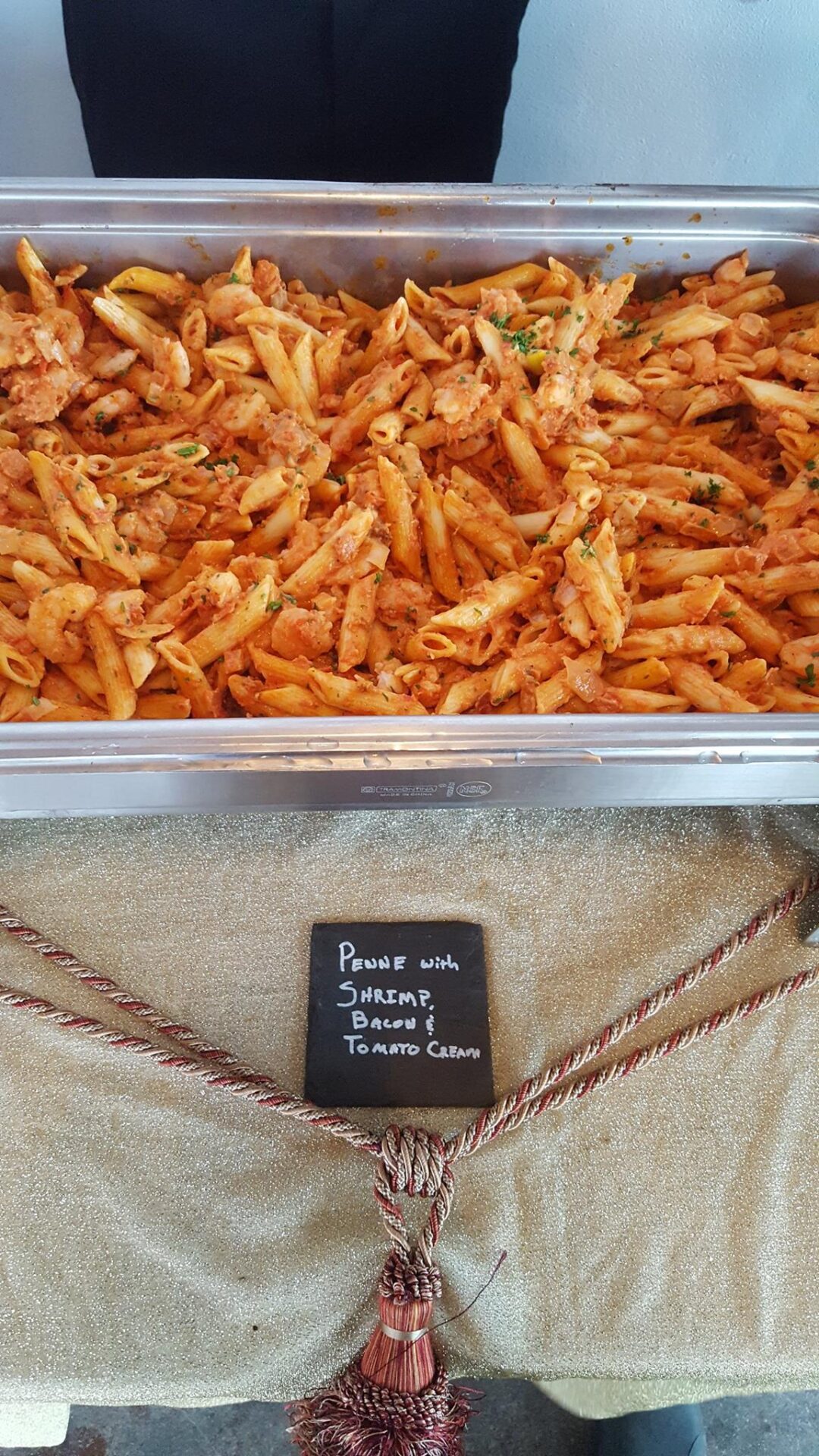 Each pan feeds 10 adults and is served with a loaf of homemade bread
Spaghetti And Meatballs
40 meatballs with marinara and spaghetti $90
Pasta Al Freddo
Choice of pasta $60
Penne /Tortellini With Bolognese Sauce $70/$85
Bake with cheese on top $10
Angel Hair With Roasted Tomato, Fresh Mozzarella, Olive Oil, And Fresh Basil $70
Tortellini With Mushroom Cream Sauce $80
Penne With Bacon And Spicy Tomato Sauce And Romano Cheese $70
Add Chicken at $6 per breast or Shrimp at $1.50 per to the pasta above-lasagna not included
Lasagna Bolognese
Our top seller 4 layers of meat sauce, 3 cheese, and bechamel $100
Cheese Lasagna
4 layers of Ricotta, marinara, and 3 cheese $60
Spinach And Mushroom
Sauteed spinach and mushrooms layered with ricotta and tomato sauce and three cheese $75
These Casserole-style dishes are comfort food for everyone. They are not available in Box lunches but make a great option for family gatherings or smaller budget events. Pans are sold 9x12 and feed about 10 per pan. Side dishes are purchased separately
Shepards Pie $65
Mousaka $75
Tamale Pie $60
King Ranch Chicken $70
Arroz Con Pollo $65
Enchilada Pie $65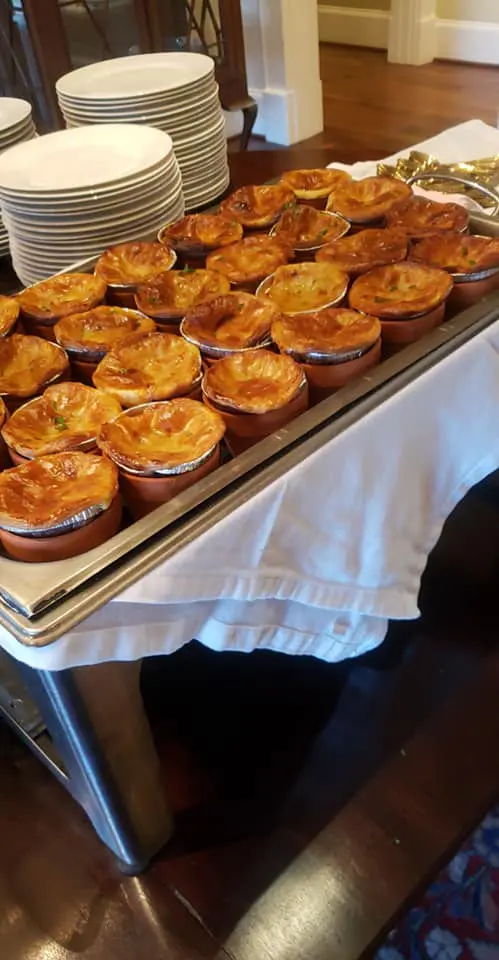 Minimum 25
Prices do not include attendant fees to run bar stations
Pizza cooked on site!! Oven rental available! $150 plus pizza costs and labor charges
Fajita Bar $16
Served with peppers and onions, pico de gallo, sour cream, rice, refried beans, and tortillas. pork, Chicken, beef (add $3), shrimp (add $5)
Burger Bar $9
Includes 5-6 oz beef patty and bun with lettuce, tomato, onion, pickles, American Cheese, mayo, mustard, and ketchup. Additional toppings available
Hot Dog Bar $5
1 hot dog and bun per person with relish, mayo, ketchup, and mustard
Mac And Cheese Bar $6
oz portion of mac with bacon, ham, green onion, peas, and cheese
Baked Potato Bar $6
Includes potato, butter, cheese, sour cream, green onion, and bacon bits
Taco (2) Or Nacho Bar $12
Ground beef or turkey with pico, cheese, lettuce, sour cream, jalapeno flour or crunchy shells or chips, rice, and beans
Pasta Bar $11
Two kinds of pasta, two sauces, assorted toppings. Additional charge for extra meats or veggies

Bruschetta Bar $8
Sliced rustic bread with 3 choices of bruschetta toppings
BREAKFAST BARS
Other breakfast bars available. Ask for details.
Omelet Bar $10
2 eggs per person, 2 cheese, 5 fillings
Yogurt Bar $6
3 flavors of yogurt with 4 assorted toppings
DESSERT BARS
Ice Cream Bar $6
Chocolate and Vanilla with sprinkles, chocolate chips, cut strawberry, cookie crumbles, assorted candy bits, chocolate, and caramel sauce
S'mores Bar $5
Graham cracker, Marshmallow, and chocolate with sterno and lava rock fire pit and bamboo skewers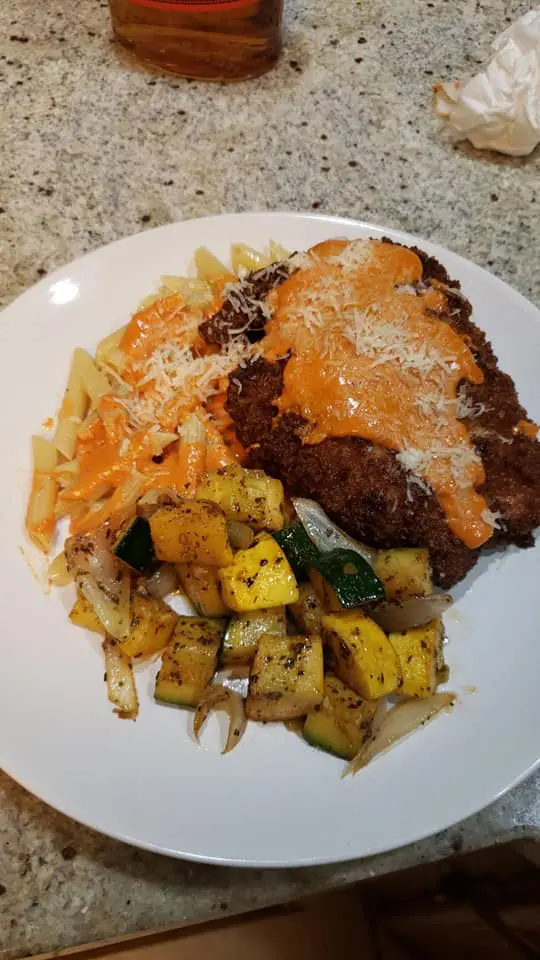 CHICKEN/PORK TENDERLOIN
All items are priced per portion. A minimum of 15 must be ordered, or additional costs will be incurred. All items are priced for bulk delivery, and individual boxes will incur an additional $1.00 per person charge. All portions are 6 oz unless specified. Smaller portions split portions available ask for pricing. Sides are listed but may be changed or substituted. Some substitutions may incur an additional charge. Roasted Clove may sub items without notice if items are not available.
Piccata
Lemon, caper, white wine sauce with roasted potatoes and green garlic beans $11/$13
Florentine
Spinach and mushroom cream sauce with mashed potatoes and roasted squash $12/$14
Herb Crusted
Thyme garlic and oregano crusted pork or Chicken with Roasted garlic cream sauce, parmesan potatoes, and green beans $12/$14
Parmesan
Breaded and fried cutlets with marinara, provolone, and mozzarella cheese on spaghetti marinara and roasted veggies $14/$16
Marsala
Sweet mushroom and marsala wine butter sauce with mashed potato and green beans $11/$13

Caprese
Seared meat topped with roasted tomato, fresh mozzarella, and fresh basil leaf and kissed with balsamic reduction- garlic rice pilaf and roasted potato $13/$15
Chicken Fried
White pepper gravy, mashed potato, and com and peppers $12/$14
Lizzy
Seared Cutlets topped with bacon, jalapeno, and mozzarella and finished with ranch dressing $13/$15
Island Style
Caribbean spiced Chicken or pork with pineapple salsa, coconut rice, and roasted veggies $12/$14
Cordon Bleu
Stuffed with Canadian bacon and provolone, breaded and pan fried, topped with Dijon caper cream sauce with roasted potato and roasted squash $14/$16

Odessa
Texas Style blackening seasoning with bacon and jalapeno gravy, gouda mashed potato, and green beans $12/$14
Teriyaki
Sweet Soy marinated with coconut rice and sautéed veggies $12/$14

Cajun
Blackened seasoned topped with etouffee gravy over rice pilaf and green beans $12/$14
Meatloaf
(8oz individual portions) with mashed potato, brown gravy, and green beans $11
5oz Sirloin Steak With Chimmi Churri, Roasted Potato, And Green Beans $17
Kebabs
Tender marinated beef skewered with peppers, onions, and mushrooms with rice pilaf and aujus $18
Chicken Fried Steak With Mashed Potato, Gravy, And Vegetables $13
Roasted Beef Tenderloin With Horseradish Sauce And Aujus Sides Sold Separately Market Price
Prime Rib Roast With Horseradish Sauce Aujus Sides Sold Separately Market Price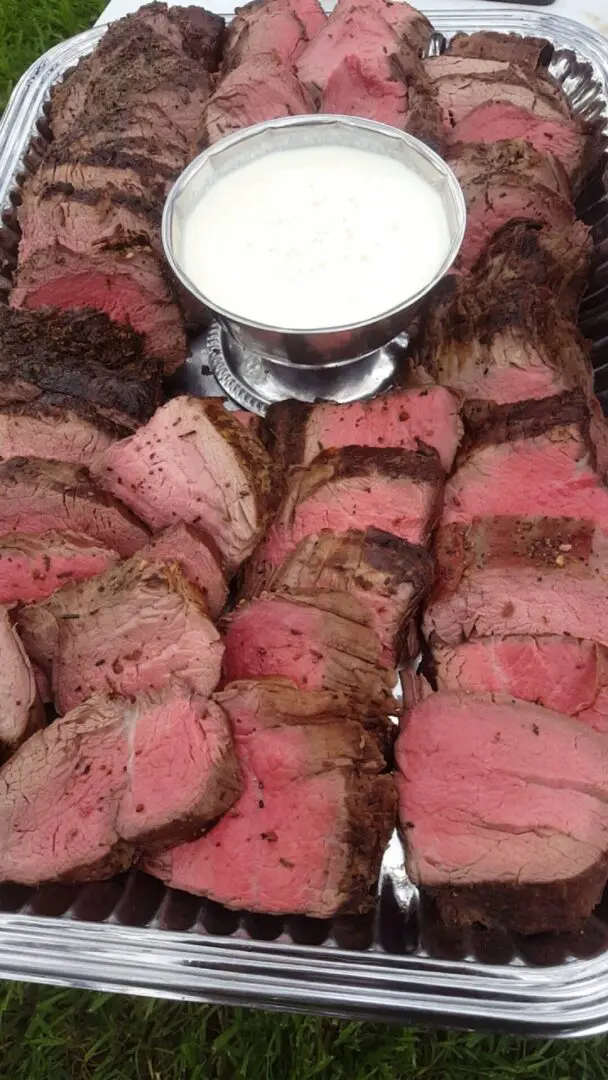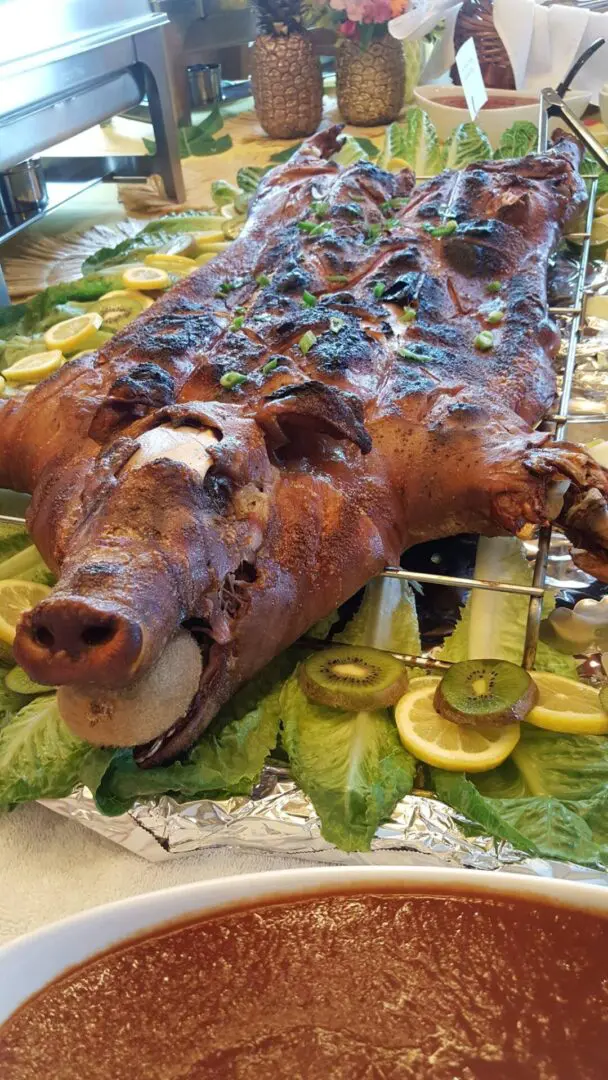 We do this too! Prices are based upon market prices, and quantities ordered. The BBQ is fantastic, but it is a labor of love, so please allow a minimum of 3 days' notice to do it right. All Items include sauce, pickles, onion, sliced jalapeno, and bread. Sides are sold separately. The whole hog is done in several flavors. Call for more information. Equipment rental may apply for cooking on-site. Tastings of BBQ are not available
Short Ribs
Pulled Pork
Brisket
Baby Back Ribs
Sausage
Whole Hog (50lb pigs)
Chicken Quarters and Halves
Smoked Turkey Breast and/or Legs
Here are a few of the more common options we offer for Vegetarian and Vegan Clients. For other options and to specify, just ask. We are happy to accommodate all of our clients' dietary preferences when possible.
Stuffed Portobello
Roasted mushroom cap topped with garlic, spinach, mozzarella cheese, roasted tomato, and creamy bechamel sauce served over creamy orzo pasta $12
Stuffed Bell Pepper Filled With Chopped Mushroom And Spinach With Parmesan Cheese And Bechamel Sauce Served Over Rice Pilaf $12
Vegan Bolognese
Textured Vegetable Protein (TVP)prepared with herbs and spices and chopped veggies and served with pasta of choice $70 per pan
Eggplant Parmesan
Fried or sauteed eggplant layered with marinara sauce and cheese over pasta $11
Vegetable Skewer With Dipping Sauce, Rice, And Green Beans $11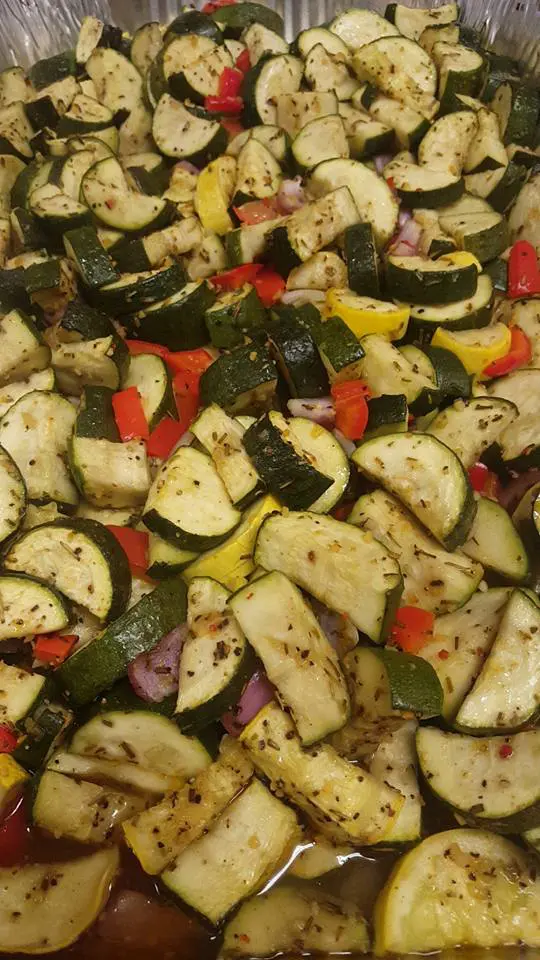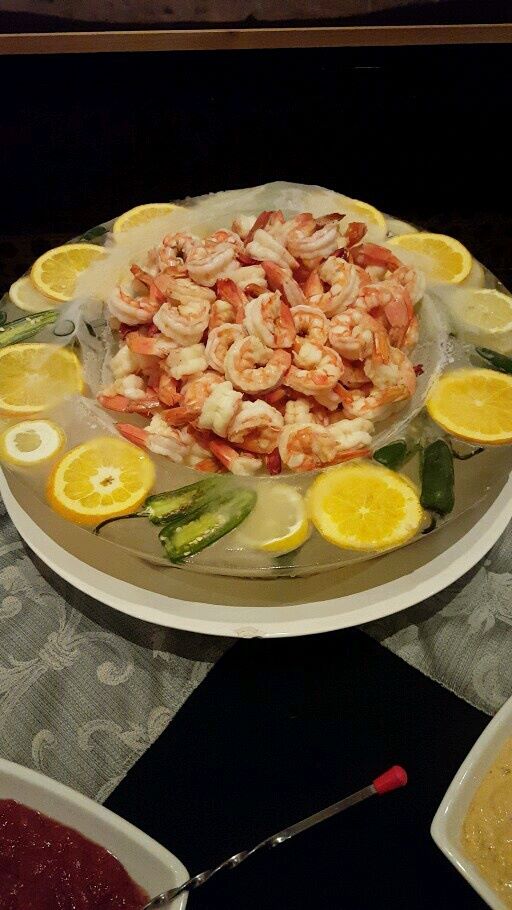 From Boils to fish fries, we know seafood. Local shrimp and fish are preferred, but we don't mind bringing in frozen to make the costs fit your budget. Many of the preparations can be done with a variety of fish, and given the constant price changes in the market, please call and ask for current pricing on all fish and seafood. For more specialized items and chef's new creations, ask us to create a special menu for your event.

FISH
All fish are market price and based on availability-call for Shrimp pricing
• Seafood Lasagna
• Crab Manicotti
• Scallops
• Oysters
• Crab Cakes
• And more!!!!!!!
A FEW OF CHEFS SPECIALTIES
• Garlic Crusted Grouper
• Pan Seared Snapper With Crab and Sage Brown Butter
• Red Drum With Tomato Basil Bruschetta
• Black Drum in Papillote With Herb Butter
• Soy and Honey Glazed Salmon
SHRIMP
Cajun Boil on the beach, in your backyard, or delivered ready to go. We do great boils! We use a 21- 25 count shrimp, red potatoes, corn cobs, and smoky sausage. Must be purchased in 5-pound increments. $26 per lb
• New Orleans BBQ Shrimp
• Shrimp Mignon
• Shrimp and Tomato Basil
• Shrimp or Crawfish Etouffee
FISH FRY!!
Yeah, we do that, too.
Catfish, drum, tilapia! It's all good; we serve it up the way you like it. Hush puppies, fries or rice, and steamed veggies. Call for pricing!
Priced per 9x12 pan
Each pan feeds 10
Macaroni And Cheese $35
Creamy Orzo And Herb $35
Coconut Rice $25
Rice Pilaf $30
Mexican Rice $30
Cajun Dirty Rice $40
Garlic Risotto $50
Curry Rice $30
Saffron Rice $50
Corn Cob $25
Corn & Peppers $25
Creamed Com $30
Roasted Squash And Peppers $35
Roasted Garlic Green Beans $30
Roasted Broccoli $30
Roasted Cauliflower $30
Vegetable Medly $35
Asparagus $50
Julienne Vegetable $30
Spinach $35
Peas And Carrots $25
Lentils $25
Ranch Style/ Borracho Beans $30
Black Beans $25
Refried Beans $20
Cole Slaw $25
Broccoli Slaw $25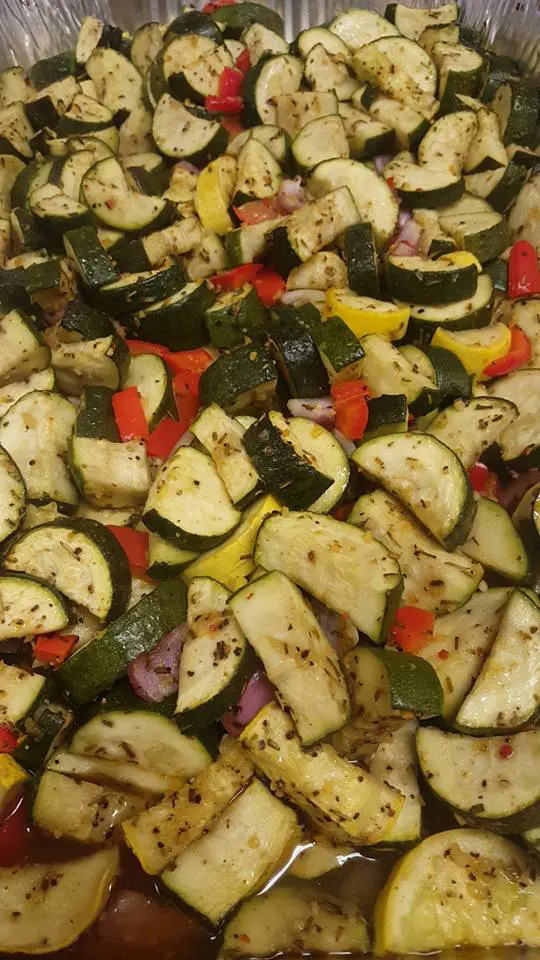 Mashed $30
Gouda Mashed $40
Roasted Reds $25
Parmesan Potatoes $30
Twice Baked Red Potato $40
Au Gratin Potato $50
Roasted Sweet Potato $25
Baked Potato-Butter, Bacon Cheese, And Chive And Sour Cream $60
Potato Salad $30
Chicken Tenders And Fries $7
Hot Dogs And Chips $4
Mac And Cheese $35 Per Pan
Mini Burgers & Fries $5
Butter Noodles $5
Spaghetti With Marinara $5
Spaghetti With Meatballs $7.5
*Sold by the pan or by each. Minimum order apply
Tiramisu $55
Bread Pudding (Varieties) $45
Death By Chocolate Cake $60
Nutella Mousse Cups $5 Each
Kates Summer Berry Trifle Cups $6.5 Each
Peanut Butter Parfait $5 Each
Tres Leches Cake $50
Fruit Cobbler Crisp $45
Cheese Cake Plain $45
Cheesecake Fruit Topping $55
Cookies $18 Doz
Brownie $24 Pan
Call for more options.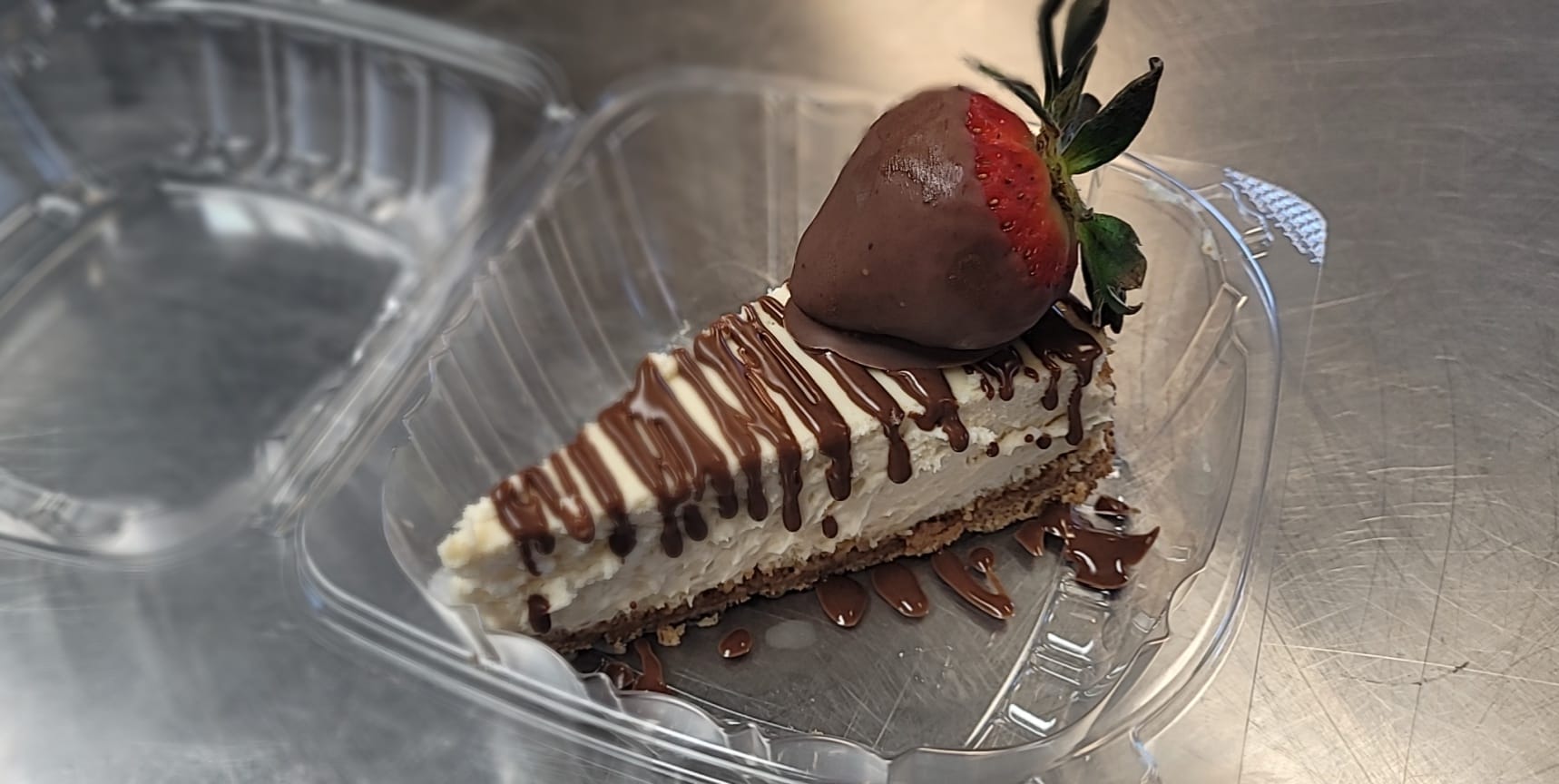 Tea
Per Gallon with sugar and lemon $8.5
Sweet Tea
Per Gal with lemon $11
Lemonade/ Kool-Aid
Per Gal $14
Coffee/ Decaf
Per airpot (20c)/ $65per lg container (60c) $25
Coke, Diet, Sprite, Dr. Pepper$1.5 Per
Juice
Per person $3

Ice
Per 10 lb bag $6
Homemade Punch Prices vary
Sometimes it's easier to have your options picked for you. Here are some regional-themed wedding packages to make deciding the food for your event a bit easier. The pricing is per person with a 25-person minimum. Prices do not include rental, delivery, attendant fees, taxes, or gratuities. These packages are not available for drop-off. Catering prices are subject to change, and substitutions may be required depending on availability. No substitution on item two entrees will incur additional costs. One Package per party.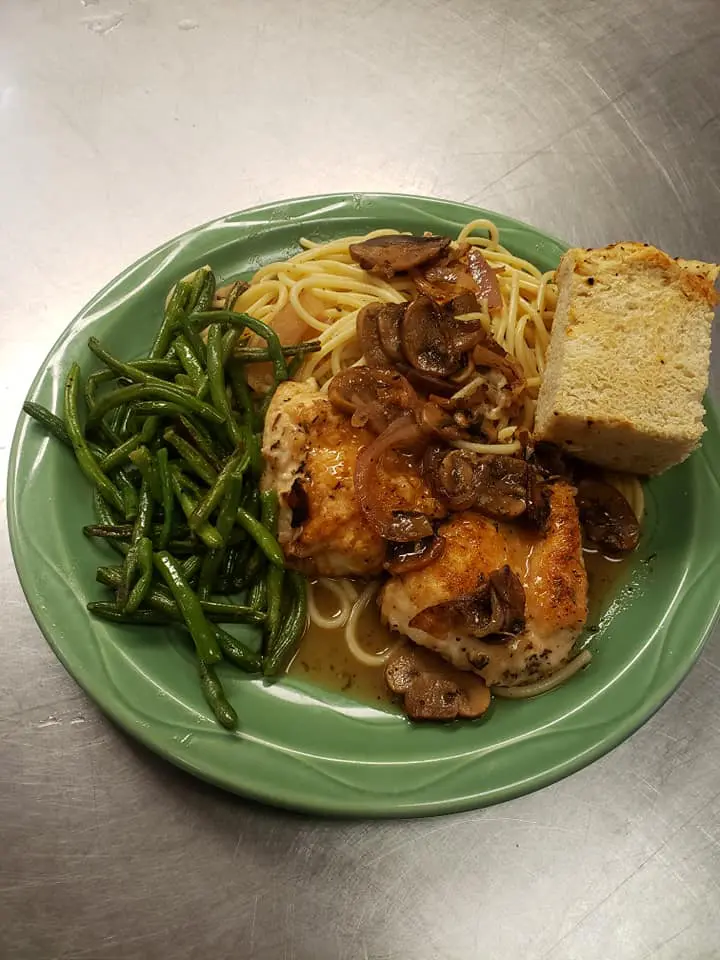 Crawfish Pies
Boudin Bites
White bean Tomato and cucumber salad with remoulade
Blackened Chicken with etouffee with parsley rice and green beans
Shrimp and Sausage Jambalaya
$24
Pimento cheese on fried tomato
Shrimp Boil Skewer-sausage, potato, and Shrimp with drawn butter
Sweet com and pepper salad
Pulled Pork with Carolina bbq sauce, roasted sweet potatoes, and creamed corn
Or
Buttermilk fried chicken tenders with mash and gravy
$25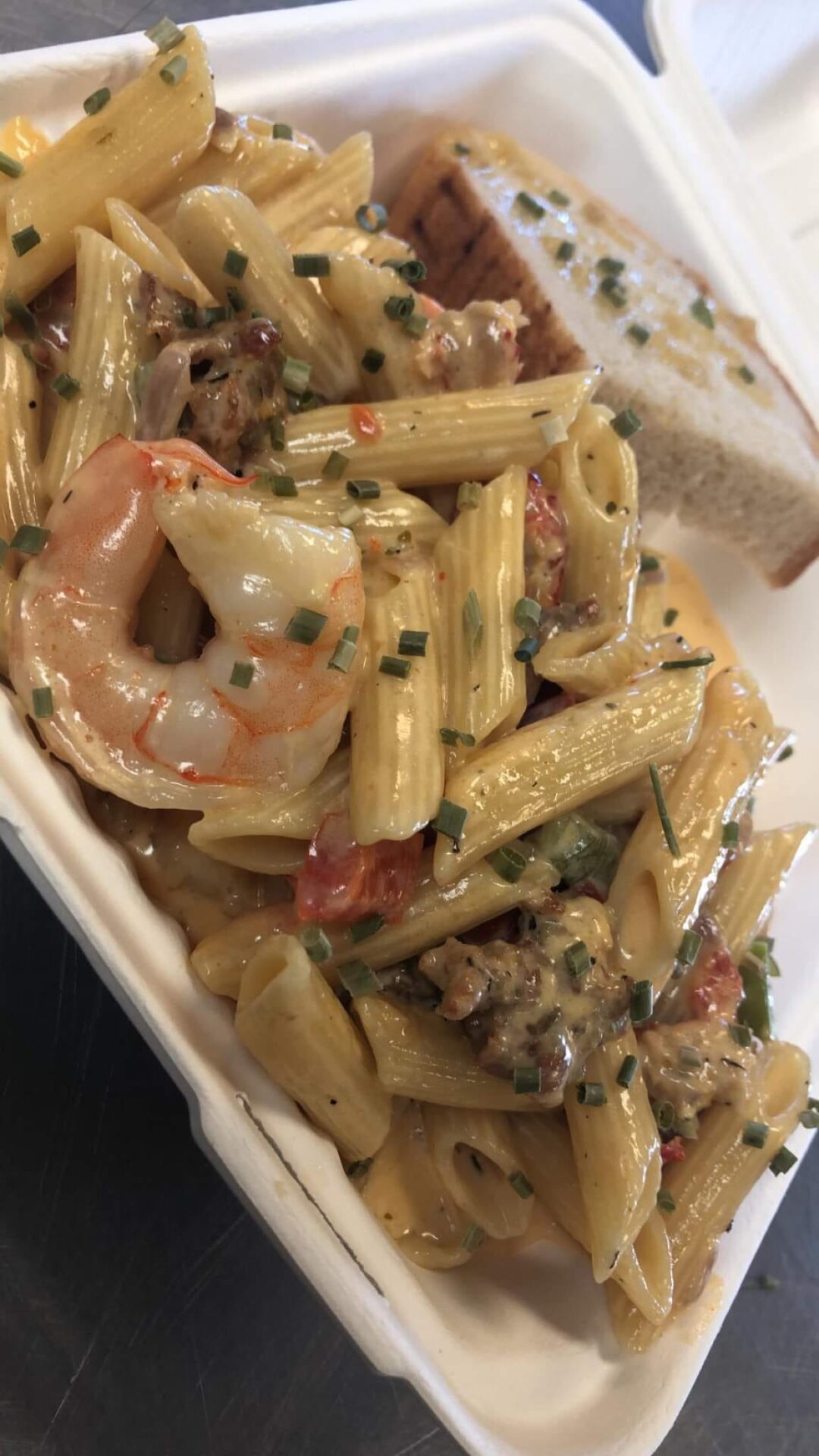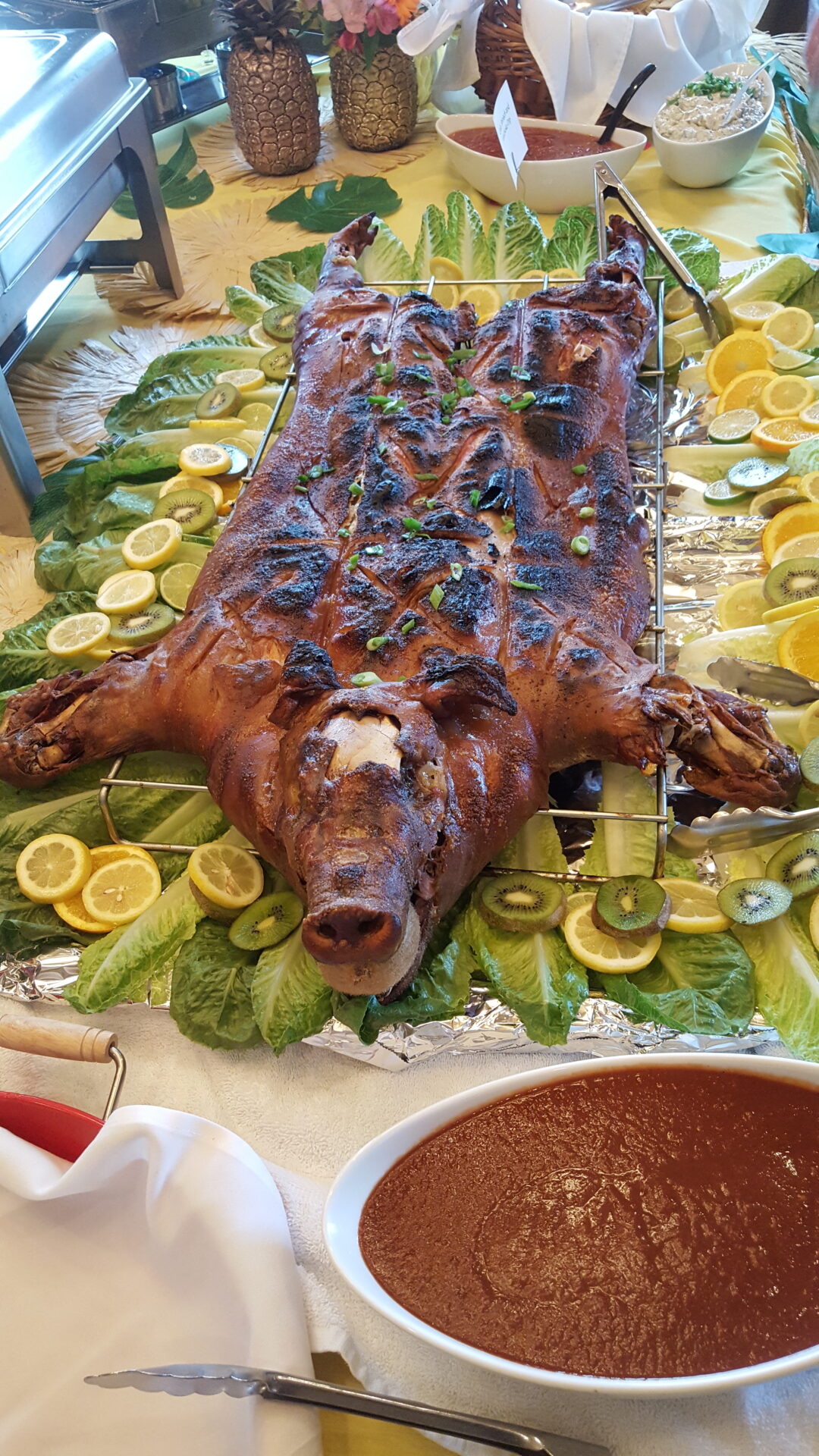 Pork Empanada bites
Elotes stuffed peppers
Jicama and red peppers salad with chipotle lime dressing
Pork Odessa with gouda mash potato, green beans, and jalapeno -bacon gravy
OR
Fajita chicken breast with ranchero and cheese
Rice and beans
$21
Mezza Platter-Hummus, Eggplant dip, and sundried tomato spread with pita bread
Kibbeh
Cucumber, tomato, and chickpeas salad with sumac vinaigrette
Lamb Kebabs with turmeric rice and veg
OR
Chicken Shawarma with turmeric rice and veg
$27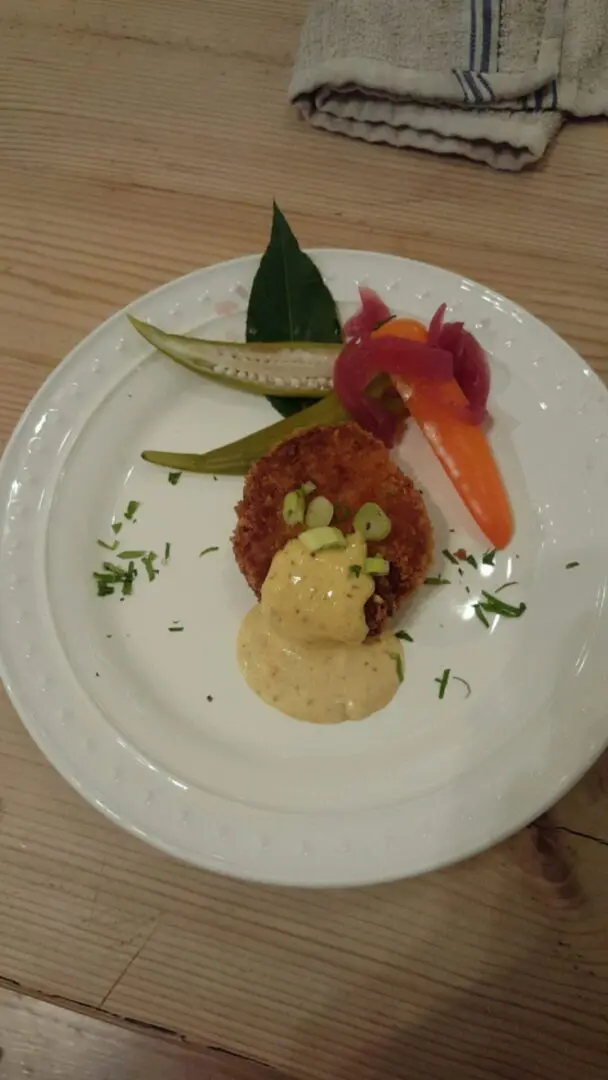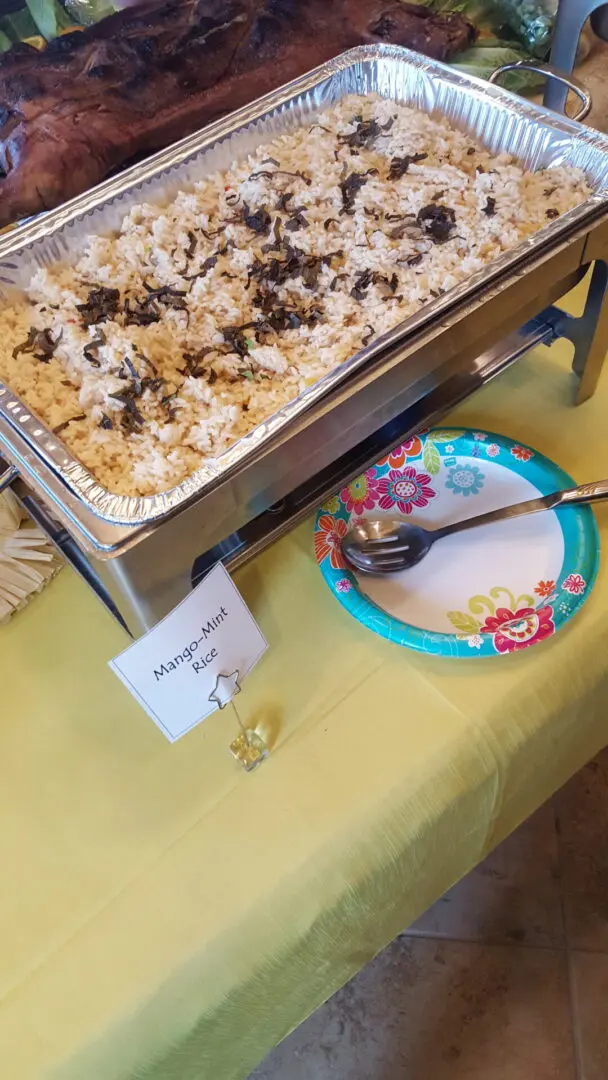 Jalapeno Poppers
Pizza Bites
Garden salad with ranch
Chicken Tenders with mashed potato and corn gravy
OR
Chicken Fried Steak with mashed potato, green beans, and gravy
$18
Tomato and basil bruschetta
Fruit and cheese board
Caesar Salad
Chicken Parmesan with green beans and pasta
OR
Penne pasta with creamy alfredo sauce and shrimp
$22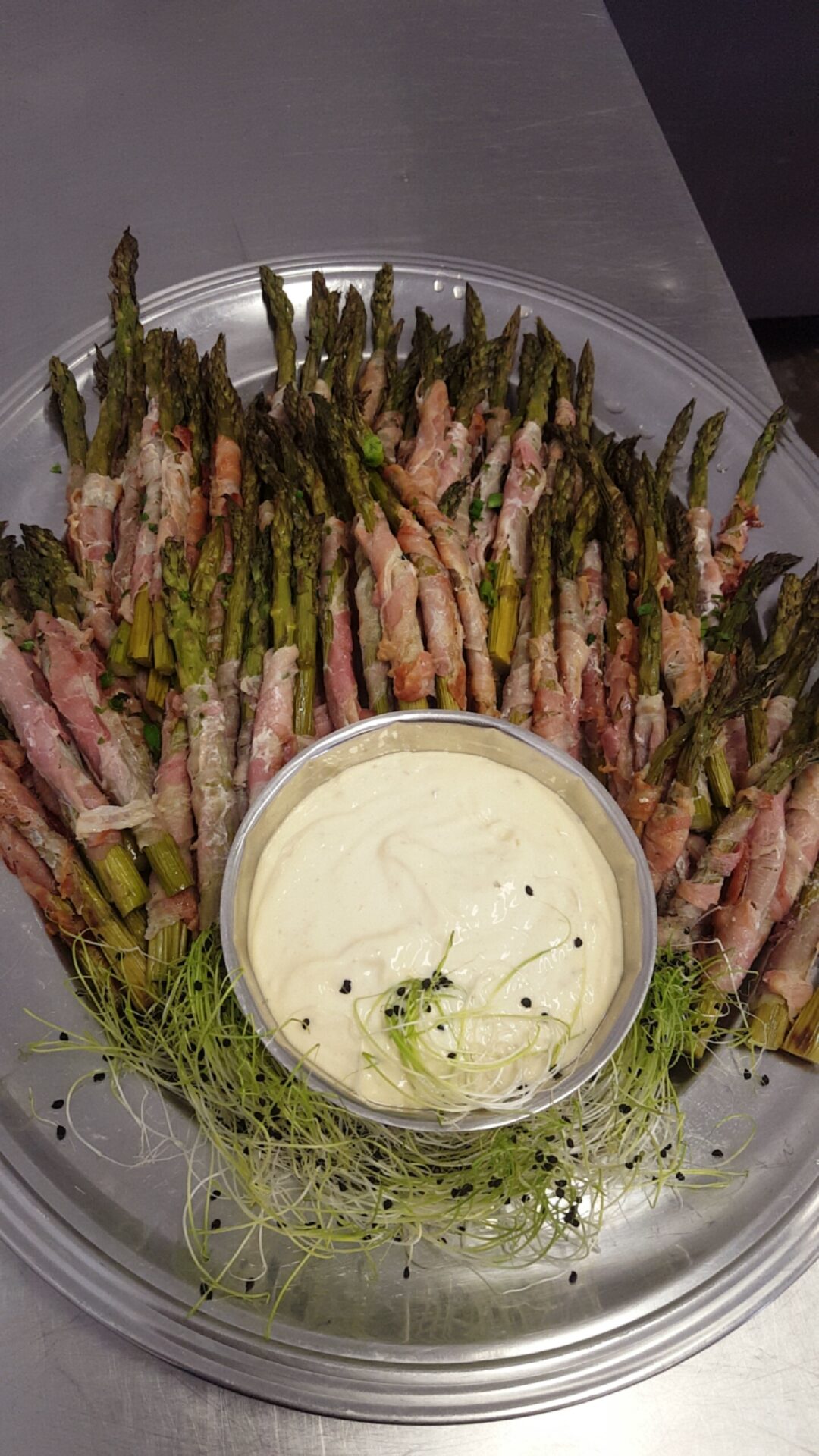 FEES, CHARGES AND OTHER BUSINESS
4% Fee can be assessed for credit card transactions to cover processing fees
Rental fees: $50 deposit - 9in Entrée plate $1.50 per, 6in app/salad plate $1 per, all flatware $.50 per piece, water goblets $ 1.5 per.- Assistant fees will be assessed to cover handling-Deposits are refunded if all merchandise is returned in total reduction will be made to account for. Linin napkins will be an additional charge.
All dishware is taken at the time of departure unless otherwise arranged
Delivery fees are charged per vehicle used, and miles traveled. The basis for the charge will be determined and included in the bill.
Disposables costs-Paper and light plastic with napkin-free, Clear plastic plate and utensils $. 75 per person, Reflections- $3 per person, Palm leaf and Bamboo- $3
Server and assistant fees- we charge $ 15 per hour with a 3-hour minimum-times will be estimated, and if the agreed-upon time is exceeded, it will be billed after the event. Gratuity is also added when servers and assistants are requested.
Contracts-must be signed, and deposits and payments made in accordance with the contractor client will forfeit catering with no refund in accordance with the contract
Prices in this menu are subject to change due to market and availability factors. Clients will be informed in a reasonable time frame if changes are to be made.
Thank you For considering Roasted Clove Food Company a VHP catering entity
Cheers,
Chef Mark Pulich and Staff